Review: Transfer your website's RSS feed from Feedburner to FeedPress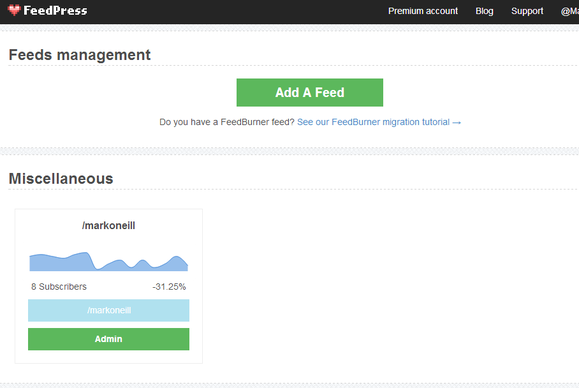 Today's Best Tech Deals
Picked by PCWorld's Editors
Top Deals On Great Products
Picked by Techconnect's Editors
At a Glance
Generic Company Place Holder FeedPress
Google has treated Feedburner like a bad impulse buy ever since purchasing it in 2007, leaving it in a state of neglect. After the announcement that Google Reader was being discontinued, the Internet grapevine began buzzing about what Google service was next on the chopping block. The general consensus is that it will be Feedburner (since both the API and Adsense for Feeds have already been closed). It would make sense, if you are a webmaster, to redirect your RSS feed and newsletter subscribers to FeedPress before it's too late.
FeedPress (formerly URI.LV) is the only serious opponent to Feedburner right now. For years, Feedburner dominated the RSS aggregation market, but now that it is looking vulnerable, the scrappy upstart FeedPress has emerged to provide a serious viable alternative to those who are nervous about possible future events. The only slight downer about FeedPress is that the free basic service is restricted, with the muzzles taken off only if you pony up $30 a year (or $3 a month).
If you sign up for the free basic FeedPress service, the RSS feed restricts you to a maximum 5,000 subscribers. If you want to exceed that, you need to pay. The restriction will make no difference to most small sites, and commercial sites have the budget to afford the $30 a year.
The most important part of the feed is how often the site is checked and the feed refreshed. After all, if you are a breaking news website, it makes no sense if your feed lies unchecked for hours on end. The free version gets checked once an hour, and paid users get checked every 20 minutes. The totally free Feedburner, by comparison, gets checked every 30 minutes.
Social network sharing is also another important aspect of your RSS feed.  Feedburner currently only supports Twitter, but FeedPress tries to get one over Google by offering Twitter, Facebook and app.net for paid subscibers. The free service only allows one social network, but at least you have your choice of three.
It is extremely easy to set up redirection for your feed from Feedburner to FeedPress. After signing up for your account, you are given detailed instructions on how to do it, in effect an easy way and a hard way. The hard way involves some coding, and the easy way is installing a Wordpress plugin that will do all the necessary coding for you (if you have a Wordpress site).
Give the server a few hours to update your account, and then you'll see your subscriber count waiting for you. You can even import in all of your newsletter subscribers. Your subscribers won't even notice the switch.
The great thing about this is that the switch to FeedPress isn't permanent. If Google suddenly decides to fall in love with Feedburner again and shower it with improvements and guarantees of long-term survival, then you can switch your feed back again. But it's an awfully good idea to set up some insurance now and move the feed, so if Google suddenly shuts down Feedburner, you won't be one of the panicking webmasters wondering what to do.
This story, "Review: Transfer your website's RSS feed from Feedburner to FeedPress" was originally published by TechHive.
Note: When you purchase something after clicking links in our articles, we may earn a small commission. Read our
affiliate link policy
for more details.
At a Glance
Generic Company Place Holder FeedPress

Future-proof against FeedBurner's likely demise by switching your RSS feed to FeedPress.

Pros

Provides an extremely easy way to divert your Feedburner feed
Wordpress plugin makes it even easier
Newsletter function also provided
Free version allows maximum of only 5000 subscribers

Cons

Newsletter design not customizable
Shop Tech Products at Amazon