Updated
The best laptops: Premium laptops, budget laptops, 2-in-1s, and more
Our top picks feature the best tech advances in portable PCs, from new CPUs and GPUs to new materials.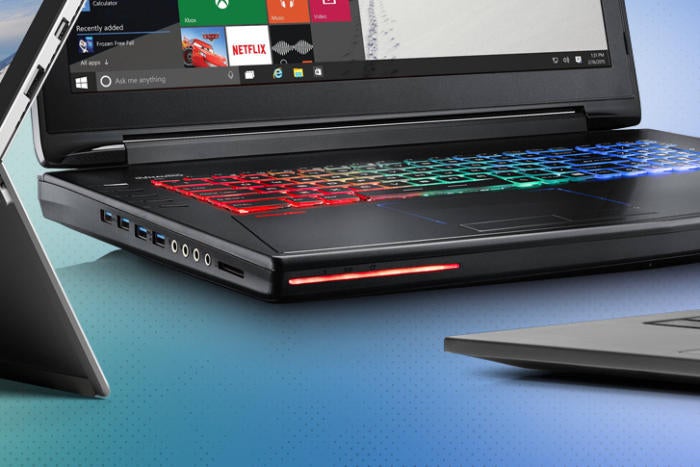 Today's Best Tech Deals
Picked by PCWorld's Editors
Top Deals On Great Products
Picked by Techconnect's Editors
2020 looks like it's going to be a great year for laptops. We have AMD and Intel battling it out on the CPU front, new mobile discrete GPUs enabling thinner, lighter, and faster gaming laptops, and battery life that won't quit. Check out the latest reviews below. 
Laptop buyer's cheat sheet
Our quick-hit recommendations
Latest laptop news and reviews
Our latest reviews show a mix of gaming and consumer machines from Acer, HP and..Motile?! Keep reading: 
The Motile M142 14-inch notebook PC may be the best budget laptop you've never heard of, because it's Walmart's house brand. It cuts some corners—battery life is mediocre, and the screen is somewhat dim. Given the price ($399 at Walmart.com), however, it's a laptop we wouldn't mind recommending to friends and family with tight budgets. Read our full review.
The HP Pavilion Gaming Laptop is an affordable gaming laptop ($1,250 at Costco.com) that's nearly as sturdy and refined as its higher-end Omen cousins with a couple of exceptions, most notably the dim display. Read our full review.
Lenovo's ThinkPad X1 Extreme Gen 2 ($2,844 on CDW.com) is a slick business laptop with the power of a lightweight gaming rig: Nvidia GeForce GTX 1650 graphics and up to a 4K display, all in a laptop weighing well under 4 pounds. Just don't take it too far from AC. Read our full review.
We reviewed two laptops from Acer's superslim Swift series: The Swift 3 ($700 on Acer.com) and the Swift 5 ($1,000 on B&H Photo). If you like your laptops thin and light, both of these are worth checking out. 
Speaking of thin and light, MSI's Prestige 14 ($1,699 on Amazon) is a small wonder: It packs a 6-core Comet Lake Core i7-10710U along with a GeForce GTX 1650 Max-Q discrete GPU, all while weighing 2.8 pounds. MSI does all this while also including a 4K screen and a reasonably sized 52-watt-hour battery. Read our full review.
Best thin-and-light laptop
It's official: You can have both performance and light weight in the same laptop, and Dell's new XPS 13 7390 is here to prove it. With its 6-core Intel Core i7-10710U CPU, this thin, light machine (available via Dell.com) has actually outpaced bigger workhorse models.
And no, before we get you too worked up: The XPS 13 7390 and its Comet Lake-U CPU aren't going to outpace a current workstation with, say, a smoking-fast, state-of-the-art Core i7-9750H. But it is the first ultraportable laptop to actually outrun older 7th-gen "H"-class CPUs in heavier laptops, including those in its XPS 15 cousins.
The amount of performance in this amount of portability was simply unheard of just, well, earlier this year. Read our full review. 
[$1,620 as tested; available on Dell.com]
Best laptop under $500
If you're looking for an inexpensive quad-core laptop that's less than three-quarters of an inch thick, the Acer Aspire 5 A515-54-51DJ might fit the bill. This slim laptop packs in more than enough power for everyday computing tasks, and its quad-core performance is respectable, if shy of awe-inspiring. A fingerprint reader and nearly all-day battery life will appeal to productivity-minded road warriors, although they'll have to settle for a display that's on the dim side. Read our full review.
Best 14-inch/15-inch workhorse
Workhorse laptops need to have enough CPU performance and screen real estate to keep you productive, plus good battery life and portability for long days on the road. Dell's XPS 15 9570 (available on Amazon) sets the standard: It's thin but packed with features, fairly light, and its 6-core Core i7 will keep up with you all day. So will the 97-Whr battery life, which lasted a whopping 14 hours in our video rundown test.
The much-lauded XPS design hasn't actually changed much from prior generations—why mess with near-perfection?—but one highlight is an honest-to-goodness fingerprint reader. Read our full review.
[$1,666.69 at time of review on Amazon. Also available, of course, on Dell.comRemove non-product link]
Runner-up
The Lenovo ThinkPad X1 Extreme (available from Lenovo) come in a close second to the XPS 15 9570. It packs a six-core Core i7-8850H, GeForce GTX 1050 Ti Max-Q GPU, and a 15.6-inch 4K screen into a package that's a scant four pounds—a full half-pound lighter than a similarly configured XPS 15 9570. That's pretty awesome. Unfortunately because it's slightly slower than Dell's XPS 9570, and pricier than comparable laptops, it misses the top spot. Corporate types may actually prefer it nonetheless because of its vPro-capable Core i7-8850H CPU and other IT-minded perks—and have a fat budget to absorb the premium. Read our full review.
$1,395 to $3,727 ($3,149 as tested.)
Best convertible laptop
HP's latest Spectre x360 13t has something to say to other thin-and-light laptops, which, it seems, are all about taking good things away from you. Where others say No, the HP Spectre x360 13t simply says Yes. You want a standard M.2 SSD? Got it, the Spectre x360 13t says. NBA-level of travel in your keys? Sure thing. USB Type-A port?! Of course the Spectre x360 13t has that, too. When we head-to-head compared the HP Spectre x360 13t to the Dell XPS 13 2-in-1 7390, another leading convertible, the HP came out on top. Read our full review.
Runner-up
Dell's Latitude 7400 2-in-1 (available via Dell.com) is a 14-inch business laptop that delivers all-day battery life and performance. It achieves a simply incredible 18 hours of battery life using a powerful Intel 8th-gen Whiskey Lake processor, and it offers a full complement of ports plus a slightly gimmicky feature called ExpressSign-in (yes, it's really spelled that way). While our review unit clocked in at a whopping $2,800, the starting price is $1,599, meaning you could make prudent downgrades to the configuration to fit your budget. Read our full review.
Best budget convertible laptop
For years, Asus has offered great value in its notebooks, and the ZenBook Flip (available at Amazon) is a strong example of its affordable, high-performing offerings. For $700, you get a fully convertible notebook that can handle everyday tasks with ease.
In fact, its pricing and specs are virtually identical to our favorite budget ultrabook, the Asus UX305 (now discontinued). Inside you get a Core m3-6Y30, 8GB of RAM, and a 256GB SSD, and outside there's a 1920x1080 IPS screen with an anti-glare finish.
Yet despite the modest CPU, the Asus ZenBook Flip is fairly peppy. In our benchmarks, it actually outperformed faster (and newer) Core m5 and m7 processors in rival machines during short CPU-intensive tasks. Its storage drive is no slouch, either.
This laptop is slender and lightweight, too. It measures 0.54 inches thick and 2.8 pounds, which keeps it in line with more expensive ultraportables. You're not saddled with chunkier dimensions or extra weight in exchange for a lower price.
A couple of compromises do exist: There's no backlighting on the keyboard, and the trackpad is a tad springy. Still, it's a good deal in a price range that usually nets you thick, ugly, and plastic.
[$699 MSRP (256GB model); $749 MSRP (512GB model) as reviewed]
Best 2-in-1 / tablet / hybrid laptop
This category originally started out as the best "Surface" category because, well, for a time, there was nothing like Microsoft's 2-in-1 / tablet / hybrid device.
The best Surface-like device isn't built by Microsoft anymore, though. Instead, our pick for our top 2-in-1 / tablet / hybrid is Lenovo's IdeaPad Miix 520 (currently about $876 on Amazon.) Besides being almost affordable, the Miix 520 wowed us because of its 8th generation Core i5 CPU. Yup: That's a real quad-core CPU in a Surface-like device. Take that, iPad Pro.
If you're turning your nose up at the Miix 520 because it's "only" a Core i5, just know that in multi-threaded CPU-bound tests, you're looking at a 36-percent increase in performance over a high-end Core i7 Surface Pro.
So yeah, if you thought there was no way you could do CPU-heavy tasks on a Surface clone, you can. There's a price to be paid for that but you'll have to read our review for those details.
[$999 SRP as reviewed with included keyboard cover and pen]
Keep reading for our top picks in gaming laptops and more.
Shop Tech Products at Amazon