Every computer enthusiast knows the conversation—the one you get from friends or family: "Hey, I need to buy a new laptop. What do you think of this Acer so-and-so? Or should I get this Dell that costs $50 less? They seem pretty similar."
Yep, with great computer knowledge comes great responsibility. With the holidays looming, such questions are likely to ramp up as people consider laptops for gifts. 
So in the spirit of offering you the same expert advice I'd give to my nearest and dearest, I've combed through the best-selling budget-laptop lists from both Amazon and Best Buy, and weighed the pros and cons, taking into account the various configurations and specs. Both lists change quite rapidly, so I'm basing this on a snapshot in time—namely, the best-selling laptops on the morning of November 7, 2017.
This month, Intel flexes its muscles and dominates the best-sellers on both Amazon and Best Buy. While we see everything from Atom-derivatives to Core i7, there isn't a single AMD chip in the lot.
Are these reviews? Absolutely not. But I still think there's a lot of value in helping out those who can't tell an Atom from a Core i7.
Amazon's Top Five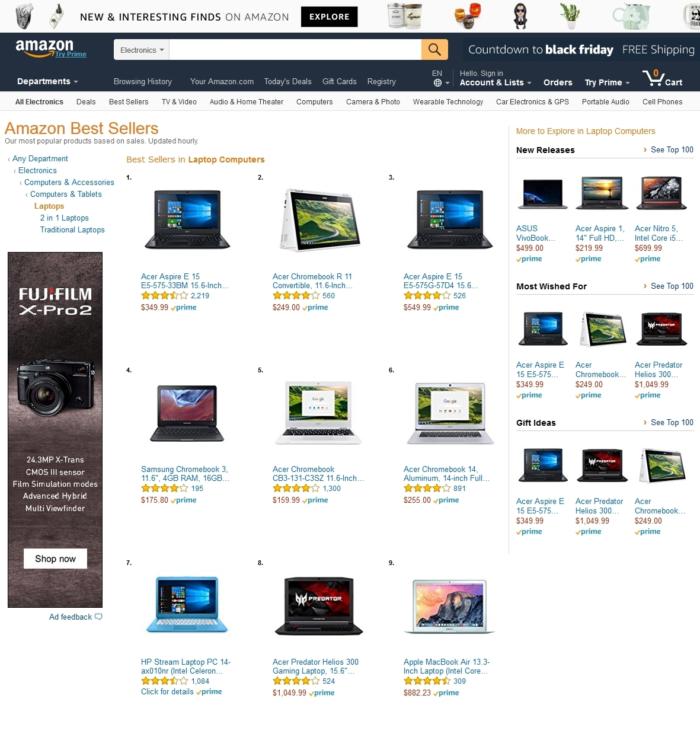 In August, Amazon's top five sellers were dominated by Windows 10, but the fall seems to favor Chrome OS, with three of the five most popular models bearing Google's Chromebook brand. Here's what we think of the best sellers.
Acer Aspire E 15
Amazon Best-Seller Rank: No. 1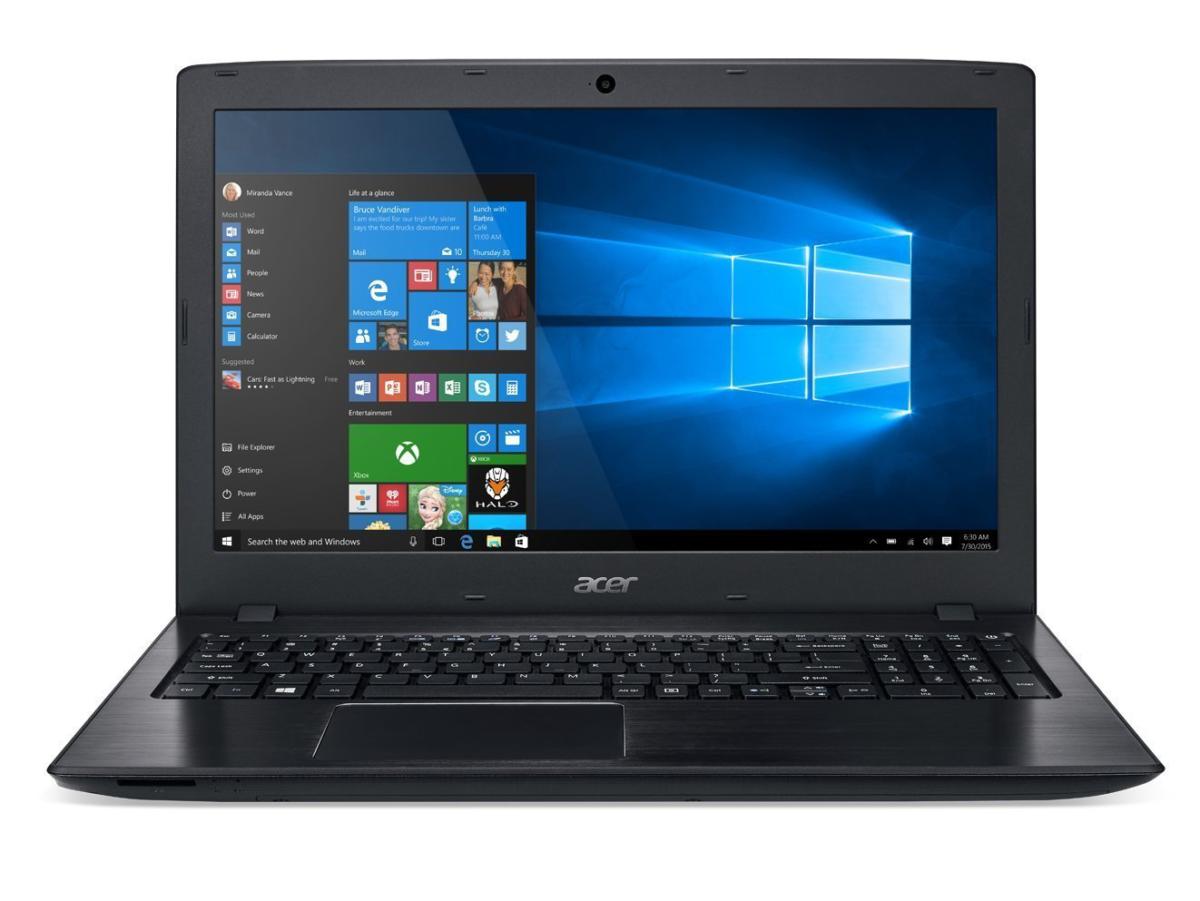 Acer's budget E 15 topped Amazon's best-selling list the last time we visited it in August, and more than three months later, the Aspire E 15 is still sitting on top. It's easy to see why consumers have voted for this $349 model. This top seller gives you a dual-core, 7th-generation Intel Core i3-7100; 4GB of DDR4 RAM; a 1TB 5,400rpm hard drive; and a DVD burner. Its display—a 15.6-inch 1920x1080, or "full HD," panel is also notable, and pretty good for the price. (Read our full review of the laptop.)
A Core i3 might not sound as impressive as a Core i5 (which boasts a 700MHz, or roughly 30 percent, advantage), but for the average consumer, the actual performance difference is unlikely to be noticeable.
That's because a system's hard drive is usually the bottleneck to performance. And at this price, you're almost always going to get a hard drive, as opposed to an SSD. Relatively ancient hard-drive technology is about as slow and cumbersome as playing music on vinyl versus an MP3. Fortunately, the Aspire E 15 is easy to service, so if you can afford to upgrade to a solid-state drive down the line, do it.
Graphics performance, which mostly impacts gaming, is also sacrificed in this budget Aspire. Rather than a dedicated graphics chip with its own memory pool, the Aspire E 15 uses Intel's integrated HD 620 graphics. It results in nearly half the graphics performance of Acer's beefier Aspire E 15 (No. 3 on the list right now) but it need not be a deal breaker. It will still handle most light-duty gaming such as Minecraft—just don't expect miracles.
One final thing to note is that of the 10 laptops in this story, the Aspire E 15 is among the heaviest at 5.3 pounds. The only other laptop to weigh this much is the other Acer Aspire E 15 on this list. Still, it's a fine notebook and we give it a Thumbs Up. For budget shoppers, it's a close call between this and the No. 2 best seller. This is the real fight.
Verdict: Thumbs Up
Acer Chromebook R 11
Amazon Best-Seller Rank: No. 2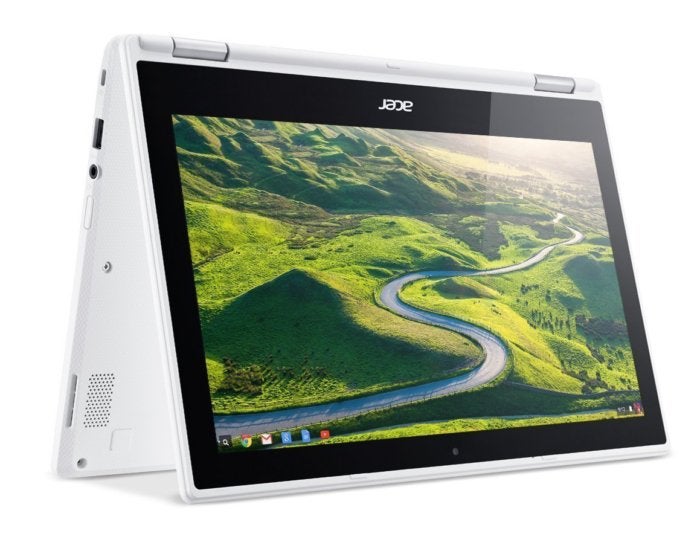 Acer's Chromebook R 11 Convertible, which sells for $249,  is new to our list, but there's a lot of good here. In the past, we've been unimpressed by Chromebooks that "convert" into tablets, but maybe we've been too harsh.
The Chromebook R 11 Convertible features an Intel Celeron N3150, which is, for the most part, an Atom X5 on steroids. It's a little underpowered for pushing Windows 10 but Chrome OS is considerably less bulky.
Perhaps more importantly, the Chromebook R 11 comes standard with 4GB of RAM. Budget and midrange Chromebooks used to come with just 2GB, which was borderline unusable for those who heavily multitask.
The R 11 features an 11.6-inch touchscreen, which might seem small, but as a tablet, it's a good size. The screen itself is an IPS panel, which means the Chromebook R 11 will give you great off-axis viewing and far more color fidelity than much cheaper screens.
Acer also goes the extra step and uses an SSD instead of the much cheaper, and generally much slower eMMC drives.
This all means the Chromebook R 11 has the features to warrant its price.
Whether it's worth it for you, depends on your needs. Having a touchscreen isn't a must have, but it can be nice. The same goes with the tablet mode. Yes, you could forego these features and save almost $75 with the No. 4 on this list, but the R 11 is still a fine product.
Verdict: Thumbs Up
Acer Aspire E 15
Amazon Best-Seller Rank: No. 3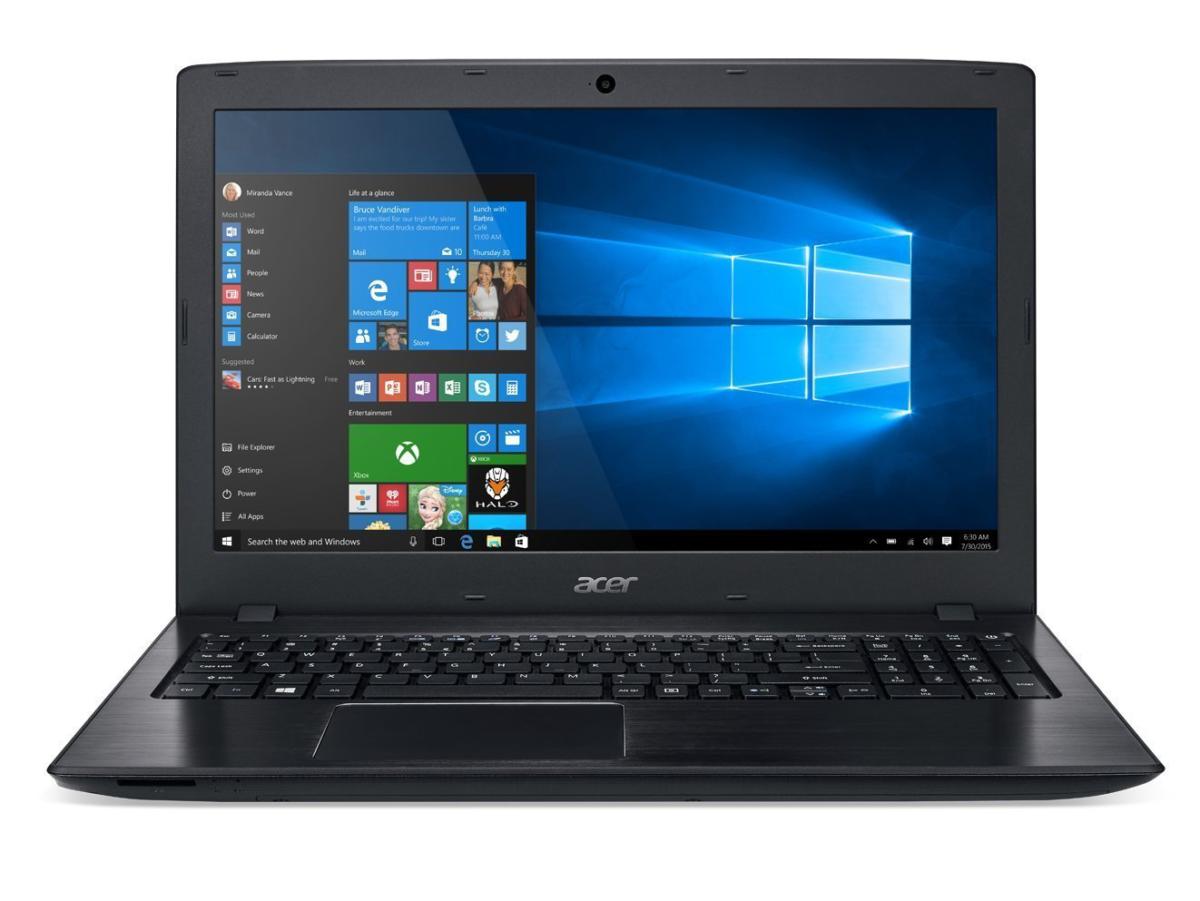 No. 3 on Amazon's best-selling list has moved up two spots since we did this article in August.
This souped-up Acer Aspire E 15 may look the same as the base model sitting in the No. 1 spot but it adds several key features that make it a much nicer laptop.
The first is the increase in RAM from 4GB to 8GB, which will help if you run multiple tasks simultaneously. The second is the inclusion of a GeForce 940MX graphics card, which gives this Acer E 15 decent graphics performance for entry-level PC gaming. It's not on par with a $1,000 gaming laptop by any stretch of the imagination, but it's definitely capable of playing a few games with the image quality turned down.
The most important feature of this E 15, though, is the M.2 SSD. If we had our druthers, Amazon would sell only laptops with SSDs because they basically speed up everything.
Honestly, the Acer Aspire E 15 is a much better laptop than the basic version at the top of this list. We understand not everyone can afford to buy "more" but the $200 extra goes a long way.
If there were two things to ding about this laptop, it would be the weight and the price. At 5.3 pounds, it's not as light as the competition. And at $580, it stretches the definition of budget laptop.
Still, if you want snappier performance at a good price and don't care about the weight, the Acer Aspire E 15 is for you.
Verdict: Thumbs Up
Samsung Chromebook 3
Amazon Best-Seller Rank: 4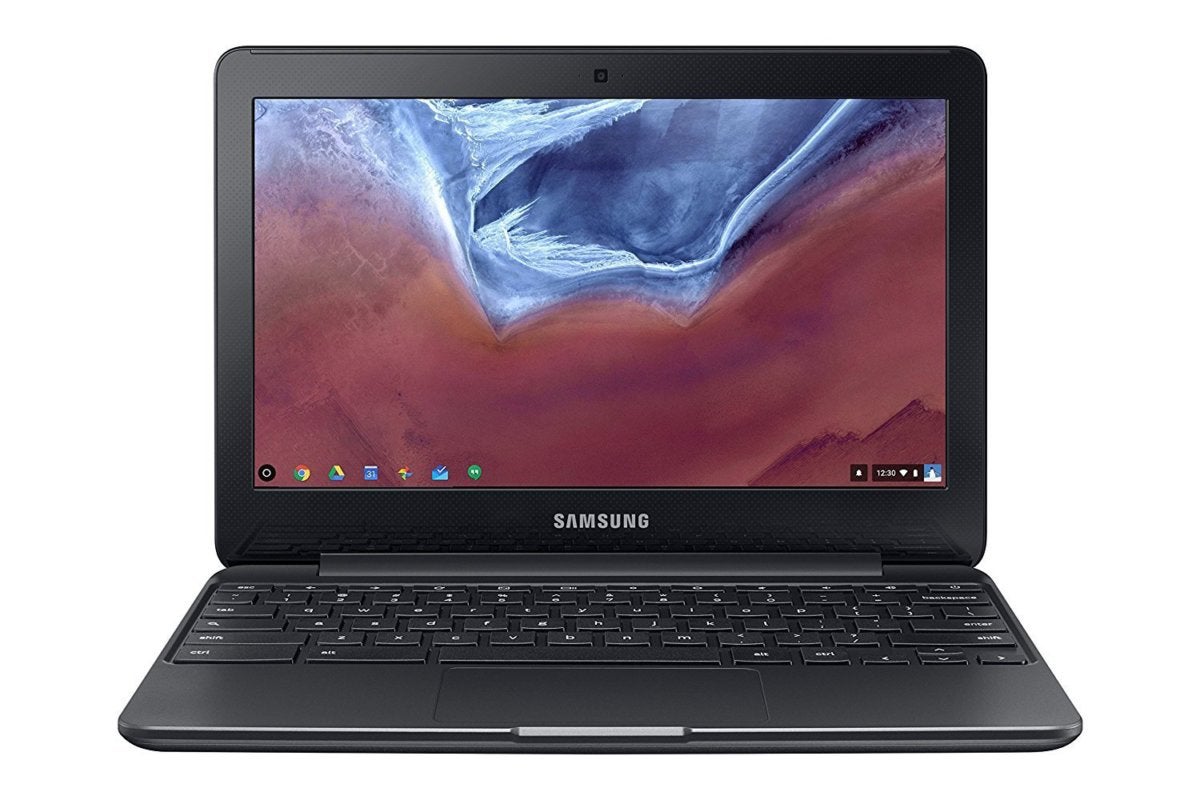 Of the three Chromebooks in Amazon's top five, we'd probably rank the Samsung Chromebook 3 ($179) as our top pick for someone who's really looking to save money.
Based on the specs of the Acer Chromebook R 11 and the Samsung Chromebook 3, performance should be pretty close. Both actually run Atom-derivative CPUs. Oddly, the Celeron N3150 in the Acer is slightly slower than the Celeron N3060 in the Samsung. Enough to matter? No.
Conversely, the Acer's SATA drive is likely faster than the eMMC drive in the Samsung. But in a Chromebook, you'd probably be hard pressed to tell. The Acer also has 32GB of storage versus Samsung's 16GB, but again, in a Chromebook, local storage shouldn't matter since everything you do is on the internet.
The Acer also has an IPS panel, which should look far better than the 11.6-inch 1366x768 screen in the Samsung. Samsung doesn't say what the screen technology is, so it's likely a TN because if it was a superior IPS panel, they'd brag about it.
But the Samsung has the larger battery, by about 35 percent larger.
Bottom line: If you don't care about touch and tablet mode, we say go for the Chromebook 3 and save yourself $75.
Verdict: Thumbs Up
Acer Chromebook CB3
Amazon Best-Seller Rank: 5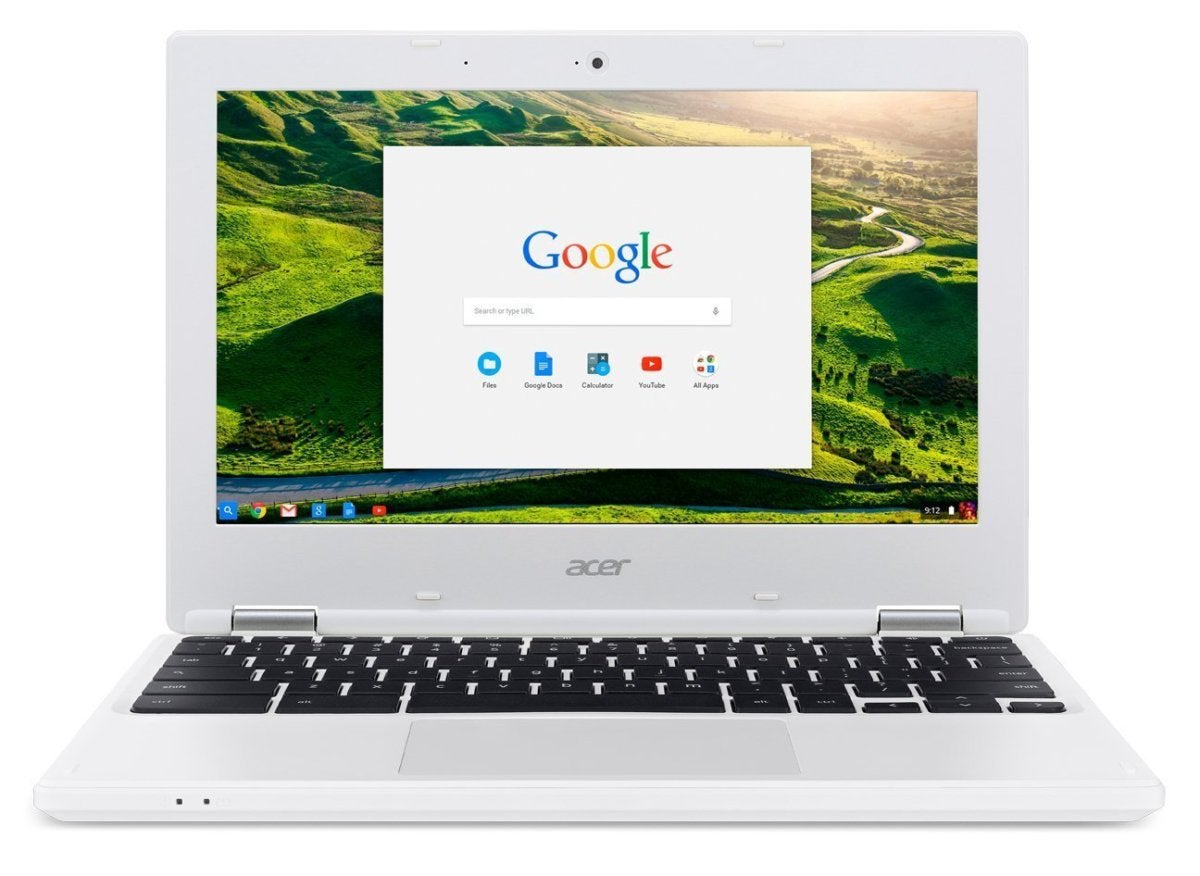 Acer's Chromebook CB3 has long been a favorite of ours. Yes, it's thick and clunky looking but its superior IPS screen should outshine the screens of most other budget Chromebooks.
Unfortunately, in this current crop of Amazon top sellers, it's probably our third pick and, frankly, no recommended.
The CB3 still packs an IPS screen, which is a premium feature on Chromebooks, but this particular model has a pretty major problem: just 2GB of RAM.
While Chrome OS isn't a full-service "fat" OS like MacOS or Windows 10, we've found that 2GB is still barely adequate.
Fire up a Chromebook with just 2GB of RAM and start running multiple tabs and you'll find those tabs constantly refreshing or dropping out. With 4GB of RAM, multi-tab use is not an issue.
Amazon sells another version of the Chromebook CB3 with 4GB of RAM, but that pushes the price of the CB3 to $188.19, which is more than the Samsung Chromebook 3 above.
The other small knock against the CB3 is its CPU, an older Celeron N2840 CPU. In reality, it's not that much slower than the newer Celeron N chips in the other two Chromebooks in this list, but it is somewhat slower, and older.
Yes, it's nice to get an IPS panels in a budget Chromebook, but in this case, we'd take the Samsung Chromebook 3 or the CB3's pricier cousin instead.
Verdict: Thumbs Down
Best Buy's Top Five
At Best Buy, the Chrombook gets no love, with three Windows laptops and two Apple laptops taking the top five slots.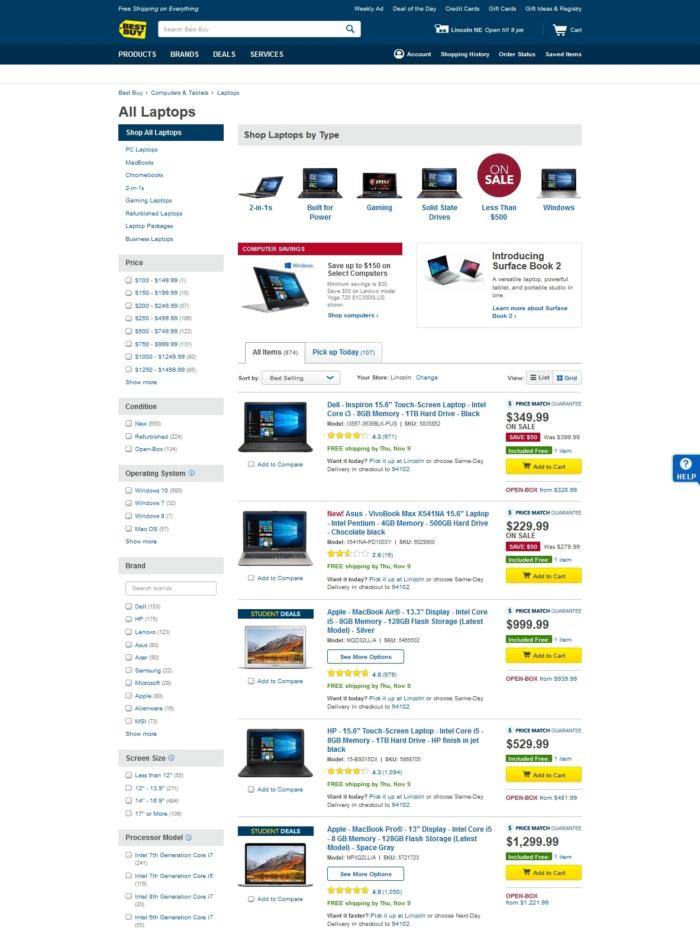 Dell Inspiron 
Best Buy Best-Seller Rank: 1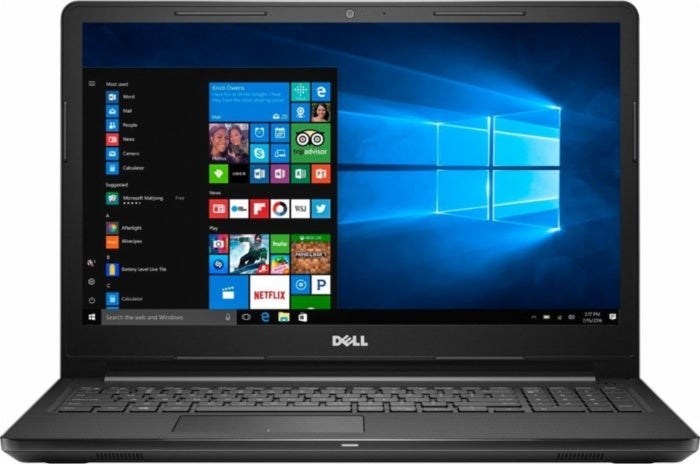 A Dell Inspiron 15 (for $350) is the top-selling laptop on Best Buy, and while worthy, there are a few things you need to know about it.
As its name implies, it's got a 15.6-inch screen, which is typical at this price. What puts the Dell at a disadvantage against other budget laptops is its ho-hum resolution of 1366x768. That means you'll get far fewer windows on the screen.
That's not always a negative though: Those with poorer eyesight may actually prefer a larger, lower-resolution screen as everything will look larger, even older programs which may not handle upscaling correctly in Windows 10.
The top seller also features "only" 802.11n, which some may turn up their nose at in this age of 802.11ac. The actual practical upshot is it won't matter for the vast majority of people looking for a budget everyday laptop. Just because you have 802.11ac in your laptop doesn 't make anything better—it also requires the support of a higher-performance wireless router. So don't sweat it.
In the "good" column, the Dell features an Intel Core i3-7100U—a dual-core chip based on Intel's 7th-generation CPU technology—along with 8GB of DDR4/2133 RAM. That RAM, mind you, is double what you're getting from Amazon's top seller, and for those who like to multi-task, it's worth it.
Also to its favor is the included optical drive. Sure, everyone says they don't care about optical drives but there's a reason laptops with optical drives often top the best-seller lists: People still want them.
One thing we're not very clear on, though, is the battery life. Dell doesn't seem to list the battery capacity anywhere on its website and Best Buy doesn't break out any details either, except to say "four cells." We surmise that, based on the screen resolution and the parts inside, battery life will be acceptable, but that's as far as we'll go.
Overall, this laptop is a fair deal at its non-sale price of $400, and an even better deal now.
Verdict: Thumbs Up
Asus VivoBook Max
Best Buy Best-Seller Rank: No. 2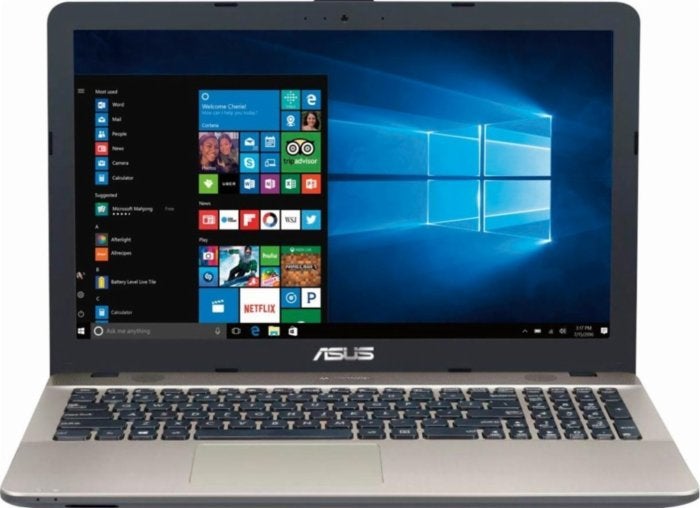 In a world where you have no choices in computing power, the Asus VivoBook Max might work out, but up against the Core-class CPUs used in the other two Windows 10 laptops, it's hard to recommend.
Sure, the Pentium N4200 is based on the newest low-power, entry-level CPU design from Intel, but it's still an Atom at its core. These entry-level Intel chips will work, but they often entail teeth-gnashing amounts of waiting too, especially when combined with a hard drive.
Add to that its 4GB of RAM and performance is just going to grate on you.
The positive to the VivoBook Max is the price. At the price we found it for today—$230—it's a very affordable entry price to Windows 10, which means the ability to run Office and other Windows applications (albeit not exactly fast). Still, we'd rather pull together another $120 to buy the No. 1 seller above. You'll just get far more usability and service life from the laptop in the long run.
Verdict: Thumbs Down
Apple MacBook Air 13
Best Buy Best-Seller Rank: No. 3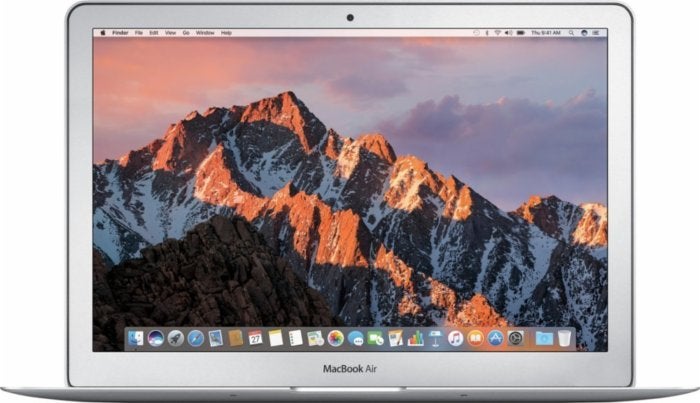 Apple has a reputation for overcharging for its hardware and the MacBook Air 13 you see here is proof of that. 
Inside you get an Intel 5th-generation, dual-core Core i5-5250U, 8GB of LPDDR3 RAM, and a 128GB PCIe SSD. The construction of the laptop is top-notch, too, with an aluminum shell and outstanding trackpad and keyboard. For the most part, this is a slightly sped-up version of the MacBook Air 13 that Apple first introduced in 2015.
Overall, the MacBook Air 13 yields zippy performance for general computing, with only heavier chores such as gaming and photo-editing being issues. Battery life is also legendary.
The screen is probably the main negative of the hardware (well, that and the fact that you're buying hardware introduced two years ago). Even though it's only 13 inches diagonal, the display is an unimpressive 1440x900 resolution using TN technology. Although TN is unsuitable for critical photo-editing (IPS panels are preferred for that), the one Apple uses isn't that bad.
The important factor again is price. In 2016, Apple was selling this same basic laptop for $1,000. And more than a year later, it's the same price—for the same basic hardware first introduced in 2015. That's like walking into a Chevy dealer and paying 2017 prices for a 2015 laptop.
What's sad is that in August this exact same laptop could easily be found for $699, which isn't a bad price. But at its present price, we can't recommend it.
Verdict: Thumbs Down
HP 15.6-inch Touch-Screen Laptop
Best Buy Best-Seller Rank: No 4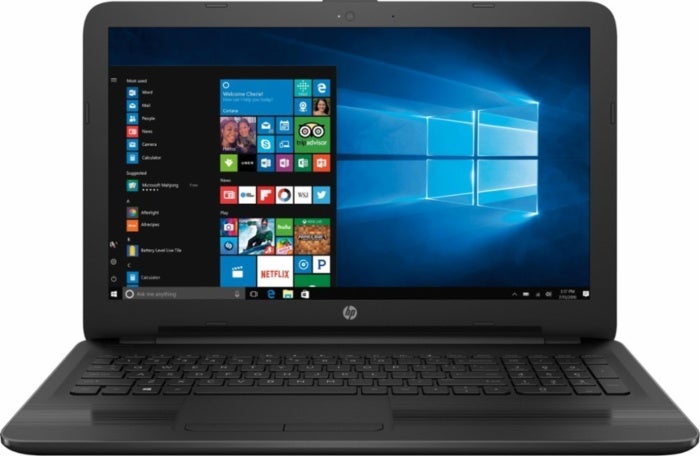 The No. 4 on the Best Buy hit parade is HP's 15.6-inch Touch-Screen Laptop. 
Do you need a touchscreen? The absence of one isn't a deal breaker, but it sure is a nice option. 
While the HP is a fine laptop, it's a bit outclassed by the Dell Inspiron above. Both have 8GB of RAM; both have similar 1366x768, 15.6-inch screens; and both have a 1TB 5,400rpm hard drive.
The main difference lies in the CPU, with the HP rolling a Core i5-7200U and the Dell using a Core i3-7100U. 
That means the HP will occasionally boost its CPU frequency up to 3.1GHz from its standard speed of 2.5GHz, while the Dell pretty much stays locked at 2.4GHz. On paper, that's about a 25 percent performance difference, which sounds huge, but on longer workloads, the HP will actually run similar speeds to the Dell.
Don't get us wrong—the HP's Core i5 is indeed faster and will feel slightly snappier and but not enough to overcome the price difference.
The day we locked in the price, the Dell was going for $350 while the HP was $530. Is a slightly snappier feel and a touchscreen worth the extra $180? Not in our book. It does get closer when the Dell isn't on sale at $400, but even then, it's $130 for performance most people would be hard pressed to feel and the addition of a touchscreen.
Verdict: Thumbs Down
Apple MacBook Pro 13
Best Buy Best-Seller Rank: No. 5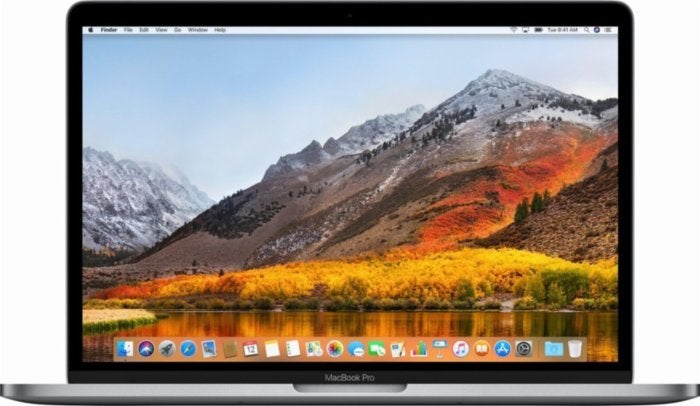 Usually, when you survey the top-selling laptops on both Amazon and Best Buy, you see laptops that range from $300 to $550, with one or two approaching $1,000. The fact that the$1,300 MacBook Pro 13 made the No. 5 spot at Best Buy is a testament to just how much consumers are willing to fork out for Apple hardware.
The laptop features a decently fast Core i7-7360U with 8GB of LPDDR3. The graphics are powered by Intel's higher-end Iris Plus 640, and storage is a 128GB PCIe SSD.
In CPU and graphics, the MacBook Pro 13 should easily outpace the nine other laptops on this list (which shouldn't be a surprise since it costs magnitudes more.)
The screen is 13.3-inches diagonal with a resolution of 2560x1600. Apple tends to use very high-quality panels in its Pro line-up and the one in the MacBook Pro 13 doesn't disappoint. 
We have two main beefs with the MacBook Pro 13: The first is the keyboard, which uses Apple's new "Butterfly" design. Some like it, some are lukewarm to it and a lot really, really hate the lack of travel and harsh feel it has. Perhaps worse: the keyboard design is developing a reputation for sticking when "dust" gets under the keys.
Coming from a company that is usually lauded for great keyboards, this one is a puzzler.
The other nag is the lack of ports. The MacBook Pro 13 comes with two Thunderbolt 3 ports, which support high-speed transfer rates and are used to charge the laptop too. But with just two, if you plug in an external monitor and charger, you're out of ports. 
And there is that other thing: the price. The MacBook Pro 13 gives you a 128GB SSD. It's stupidly fast, but it's also insanely small for a $1,300 laptop.
But you can't change reality, and with only one company making the Macintosh, you don't have much of a choice if that's what's important to you.
If you need strong CPU and GPU performance and you need color accuracy for photo editing,  the MacBook Pro 13 is the right choice.
Verdict: Thumbs Down